Existen muchas pistolas de aire en el mercado, pero la mayoría de ellas tiene un problema gravísimo, dependen de una carga o de un cartucho de carga de gas. Para los primeros días sobreviviendo esas pistolas funcionan perfectamente. Pero para el dia a dia, esas pistolas quedarán para pisapapeles puesto que no será fácil conseguir los cartuchos de gas para recargarlas.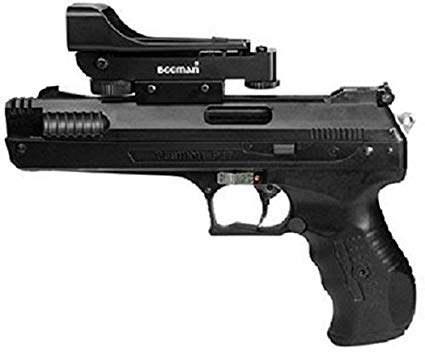 Es por eso que me dedique a buscar poco a poco y sin apuro una pistola que me sirviera para la sobrevivencia y que fuera "Autosustentable" Es allí donde aparece la Beeman P17 Deluxe Pellet Pistol with Red Dot, una pistola que no depende de cartuchos de carga. Posee un pistón de aire comprimido que la hace especial, aunque es de un solo disparo, cosa que no es conveniente, el hecho de poder cargar siempre y cuando digo siempre es siempre, sin depender de un cartucho externo, es una gran ayuda, porque nunca dependerá de ellos.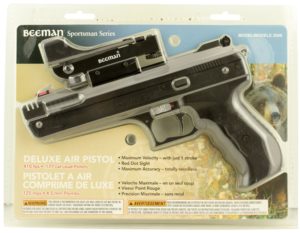 Beeman P17 Deluxe Pellet Pistol with Red Dot es una pistola muy parecida quizás a las grandes pistolas como la glock o la browning 9mm en esta caso su diseño quizás es hasta más grande, pero menos pesada. El martillo sirve para abrir el compartimiento donde el pistón neumático está. Una vez abierta la zona de carga se envía hacia atrás y se carga al final el balin por dentro de la pistola. 
No es un apistola fácil de cargar, al contrario, la resistencia del pistón es fuerte y hace que no cualquier niño pueda cargarla. Pero eso le da un poder superior a 400 fps. O pies por segundo. 
Para caseria de pequeño animales podría servir. En sobrevivencia tiene muchos puntos positivos más de los negativos. En la version que compre viene con una mira de punto rojo, que es excelente porque no avisa a los demás que estás apuntando pero marca el blanco desde lejos como si fuera un láser. A 10 metros de distancia es excelente y efectiva. COmo es de un solo tiro por carga debe estar seguro al momento de disparar quizás sea su única oportunidad.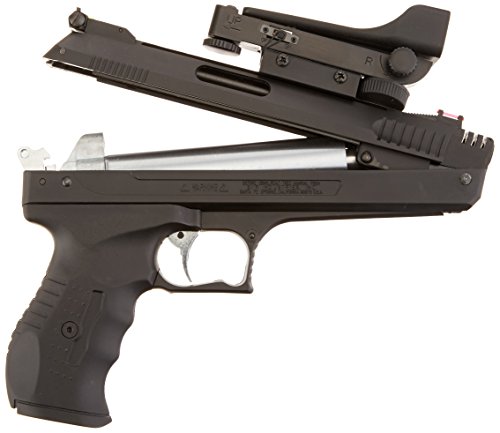 Please follow and like us:
Beeman P17 Deluxe Pellet Pistol with Red Dot
36.75
Mira de punto rojo
9.0/10
Velocidad del balin
10.0/10
Facilidad para cargar
8.0/10
Pros
Es economica
Es facil de armar, no de cargar
No require bombonas
No require refill
Tiene buena puntería desde la fábrica
Cons
Solo carga un balín por carga
Es lenta para recargar
Usa un solo balin por carga